Fascinating benefits of a route planner that help your business grow
Planning a route from point A to multiple points can be a challenging task in certain situations. Client expectations, road conditions, the time of day, and other factors can make everything look insurmountable. However, with the right tools and strategies, it doesn't have to be that way. Using route planning software can help you get from point A to point B, C, D, and more in no time.
You don't need to know every detail about how to get from one place to another. With the right tools and strategies, anyone can easily plan their journeys and reach their destinations with ease. In this article, we will discuss several benefits of using a route planner so that you see why you should get one for your business.
If you still plan the route on pen and paper, or use an accessible route planner, but are limited in the number of stops (like Google Maps), you already know what a hard task is.
Inaccurate routes can also increase fuel expenses, and time on the road leads to delays, customer dissatisfaction, and driver attrition. And, no matter how hard you try, you can't design a great optimized route manually. And there are a few reasons why:
You can't visualize a route on a spreadsheet
You can't know the delivery times the customer has specifically requested and adjust the route for it
If you're unfamiliar with an area, you can't possibly know about every one-way road and other restrictions
Google Maps limits your stops and it's tedious to work around them and compute a route
If you choose a multi-stop route planner, you will no longer worry about mapping the best route. This software can save up to 20% of your planning time and reduce logistics costs by a staggering 50%! You have heard of them, and wanted to try one, but you didn't have the time or confidence. Can it really benefit your organization, and make visible transformations, or it's just a sales pitch?
The dilemma is obvious, and we get it. If a product doesn't help you make an impactful transformation, you shouldn't invest. On the other hand, small changes won't get you anywhere anytime soon. And this is true for any product, but especially for a route optimization software product. Here are 10 benefits of a route planner you didn't even consider.
Plan routes in minutes and days ahead
Using route planner software doesn't just save you planning time. You use a visual system to plan the stops in the right order, every time. In fact, it's been shown that software can reduce planning time by up to 20%. If you think about your own business or organization, this process alone takes at least a few hours. But a multi-stop route planner will do all the calculations in just a couple of minutes. That means you no longer have to spend unproductive hours planning everything out.
Moreover, the drivers can complete more stops because of the predictability and clarity of the route. They will be happy to get a route with zero stress, which improves attrition, timely deliveries, and happier customers.
Plan routes from any device anywhere
In a digital world, it's important to be adaptable and mobile. A great benefit of transitioning to a digital work style is the ability to make changes and see them propagate in real-time. Route changes may happen anywhere, and it's important to have a reliable route planner, you can access from any device (however big or small) and make the necessary adjustments.
Optimize with constraints
There are no 2 customers alike. Every person has their own needs and priorities. Someone requests a delivery specifically in a certain time interval, in the morning or the afternoon. And ensuring the route follows all client requests within the specified timeframe is not easy.
And it's not just about the time interval. Cars and drivers are different too. Cars have different capacities (volume, weight), while drivers might want to start from different points or end their route on different routes, or visit only certain areas.
Manual planning takes a lot of time and mental effort when you try to consider every constraint. And at the end of the day, you don't want your company to appear sloppy, but the most professional company their customers have ever worked with.
Edit the route
Even if you plan the perfect route, there will always be uncertainty. When this happens, it's important to have the ability to edit the route and let the drivers know there are changes. On a spreadsheet, this is tougher than it looks. Not to mention the importance of clearly communicating to the driver the new route.
Considering unanticipated changes is hard. But you can edit the route and make it perfect by dragging orders into a certain position, to serve an important customer faster than scheduled. On a multi-stop delivery planner, these edits are super fast and changes can be visible in the driver's route in real-time. You can assign stops to drivers, move them between drivers, or reschedule them to another day.
Want to see for yourself how Logistia Route Planner can help you grow?
Whether you want to save planning time, increase the number of stops, or just offer a better service to your customers – Logistia Route Planner is your partner!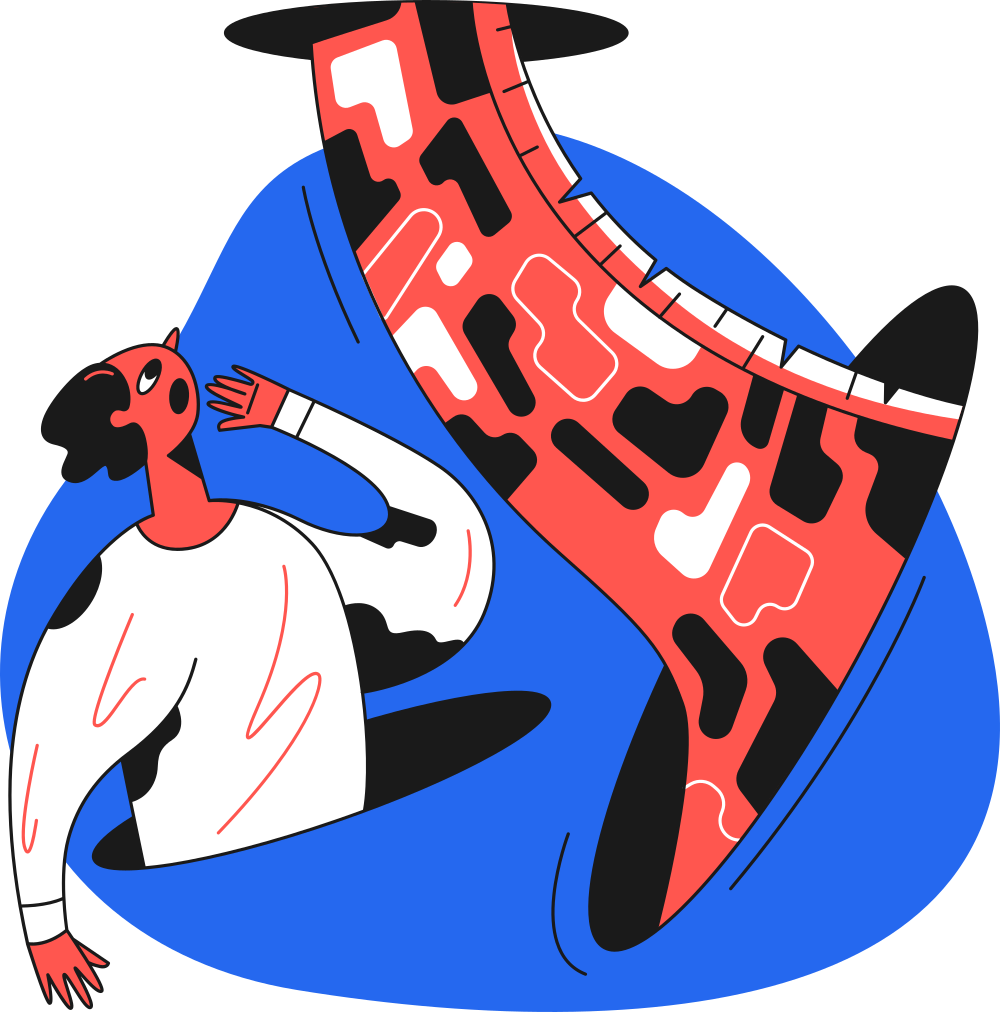 Avoid risky maneuvres
Driving is dangerous, even if you are a perfect driver. Every time you or your drivers get behind the wheel, you will have to face turns. Each turn, be it a left, right, or U-turn, comes with its challenges. We've talked about how risky a left turn is, and why 60% of car accidents happen because of it.
U-turns increase fuel costs, left turns are one of the riskiest maneuvers, and right turns need to be approached with just a little more care. When you plan routes on paper, you cannot account for every turn to make the routes as efficiently as possible. It's a huge task. And this is where a route planner is helpful. If you didn't think creating a route without risky driving turns is possible, software like Logistia Route Planner can do it intrinsically.
Keep drivers safe
Following a planned route removes any mental load on you or your drivers. Therefore, planning a route ahead and giving your drivers the list of stops and all the information they need to complete them, reduces the risk of error. Drivers don't need to search for the information in several places, reducing the need to stop for longer periods of time.
Drop-offs are at the right location
Dropping off a package to an unknown location is not always easy for the drivers. Until they get used to the area and learn by heart where certain locations are. Take for example a large factory, or a hospital where there are several entrances, each with its own address. So leaving your drivers guessing the right location is time-and-fuel-consuming.
Using a multiple-stop route planner means marking the right location only once. When you plan the route, Logistia Route Planner and other software will ensure drivers get just in front of the address, no time is wasted anymore. This also means reduced costs with fuel.
Legal protection
Maps become outdated fast but are inevitable in the planning part. So, even if you follow the same route every time, old roads are rebuilt, or city centers cannot be accessed by car anymore. One of the benefits of a route planner is going digital, and having all road updates available as they happen. You don't want your drivers to follow an off-limits road or break the law.
Another benefit is capturing the proof of delivery, a signature, notes, and photographs. In Logistia, the proof of delivery captured by drivers is available instantly for other employees who have access, speeding up all other processes involved in the overall delivery process, and protecting you in case of any misunderstandings.
Track drivers and improve processes
Manual planning and giving the drivers a printed version is good to a certain extent. But it deprives your company of the much-needed data to see where you can improve. Using an offline mode of work, like printing routes, is usually good for backup. However, you won't know how much time the route actually takes, or how much time each drop-off is on average to adjust for future routes or other important KPIs.
The benefits of a digital route planner are incomparably better since you can monitor what the drivers are doing while at work, improve productivity, inform customers more precisely about their estimated time of delivery, and keep track of expenses.
Empower the customers with their personalized delivery status
Another visible benefit of a route planner is the estimated time of arrival and notifying customers about it. This can give your customers a heads up on when their order will arrive, so they are aware their requests have been considered and fulfilled. And if they are not at the location, they can contact you to arrange another delivery. A route planner can solve a lot of friction between you and the routes.
Speed up other processes in your organization
Having the time predictability of a delivery date means the customers enjoy better service, and other departments can speed up. For example, you can send the invoices faster because you already know which clients have been already serviced.
---
At the end of the day, the goal of a route planner responsible is to reduce mileage, decrease fuel costs and lower the risk of accidents. With data, you can do more than just reduce driving time for drivers, but impact the whole organization. And contrary to popular belief, digital transformation is less about technology and more about people and the adoption of smart tech layers of intelligence that complement their work. Being in control of your routes and knowing you can rely on software that allows the much-needed flexibility between digital and traditional is the key to success.