Shopify Local Delivery App: What is it and how to use it?
Shopify is an e-commerce platform geared towards offering an online market for small businesses. In 2020, they have stepped up their game in reaction to the global pandemic. They have launched an app designed to help everyone who does local deliveries, called Shopify Local Delivery. The lockdowns have affected many businesses and one major shift in the retail business, which is here to stay, is they are handling their own deliveries.
In this guide, we'll be comparing the Shopify Local Delivery App with our own platform, Logistia Route Planner.
What is Shopify Local Delivery App and how to set it up?
Shopify has launched its very own delivery app to answer one big question of local businesses: If I only deliver within a limited radius, why should I have to use courier companies?
Therefore, their app helps Shopify store owners manage and deliver their products directly, cutting out the delivery companies and saving them money. It allows the owners to manage delivery lists, optimize the order of deliveries and provide the customers with an updated status about their package deliveries.
Many of these features might look similar to those available in Logistia. There are several important differences between the two tools, which we'll show later on.
To offer your customers the option for local delivery, there are a few additional steps you need to do as the shop owner. Go to the Settings. Then, click on Shipping and Delivery. Add a new location if you don't have one and click to mark that it offers local delivery. You can set a delivery radius or postcodes, a delivery price, and a minimum order price that will appear at checkout.
To enable Shopify Local Delivery App, simply install it from the Shopify Apps store.
Benefits of Shopify Local Delivery App
There are some unique benefits of using the Shopify Local Delivery App.
Native Shopify app

. Made by Shopify specially for Shopify platform, which means they built the app into the existing platform and integrates easily with your employees, existing processes, and experience.

Free to use

. The app is free-for-all Shopify merchants. If you are eligible to use it, you can start right now. The eligibility criteria states you have 20 or fewer locations and have the custom checkout disabled.
Customized email notifications. Being familiar with Shopify's template language, Liquid, offers you the ability to customize the order confirmations for customers that choose the local delivery option.

User friendly

. The app has the same familiar look and feel from Shopify, which makes it easy to get started and deliver the products to customers.

Simplicity

. Shopify has included the basic features you would need to add, optimize and get delivering started as fast as possible.
If you'd like to know more about setting up your local delivery methods in Shopify, check out their manual here.
What are Shopify's Local Delivery App limitations?
With only basic functionalities, there are some limited actions you can do.
Only on Shopify. If you run on other platforms, such as WooCommerce, you cannot use this app. But we know one app that can help you out😉
Can't split the delivery for multiple drivers. Local Delivery app can optimize the orders, but it can't split it into more drivers. This is a manual action the dispatcher must do, which can be time-consuming and prone to human error.
Lack of route customization. You don't have any route customizations, like individual driver settings, or adjust manually the optimized list to accommodate personal preferences.
Capped at 100 stops. If you run a one-store operation with just a few orders per day, you probably wouldn't mind. During peak seasons, if you're limited to 100 deliveries per day you may experience delays and unhappy customers.
Optimize only orders marked for local delivery. You can't add orders from a spreadsheet or orders that are not marked for local delivery. If you want to add orders from multiple sources to optimize them together, look for another solution like Logistia 😉
You should be mindful that using the Local Delivery App may cause problems with other apps and customized checkout.
How Logistia Route Planner compares with Shopify Local Delivery App
Shopify's Local Delivery app is a very useful option for small Shopify merchants with few deliveries and one driver. Provided the above limitations do not get in the way, it is a good solution. The optimization is simple, while the delivery notifications keep the customers updated.
Our own app, Logistia Route Planner integrates easily with Shopify shops. Getting started is just a click away.
Logistia Route Planner offers greater flexibility for optimizing routes. For businesses with over one driver and many deliveries on a daily or weekly basis, it's important to customize the routes. For example, if you need to deliver an order within a specific time interval or drivers should start or end at different points, Logistia will consider these restrictions to create the best route.
A huge pain point is getting to the right address. Logistia provides you with various ways to handle all your delivery addresses. You can import them through a spreadsheet, manual typing, or import them straight from your Shopify. Then Logistia will automatically decode the address, so you will get to the correct address every time.
Another important benefit you get with Logistia is route monitoring. Get the driver's position and help them in case of anything.
Lastly, proof of delivery is an important element in the delivery process. Not only does it help you see a successful delivery, but also keeps a transparent relationship with the customers. Logistia Route Planner can capture the customer's signature and a photograph.
Install Logistia Route Planner
Get all the power Logistia has to offer for your Shopify shop.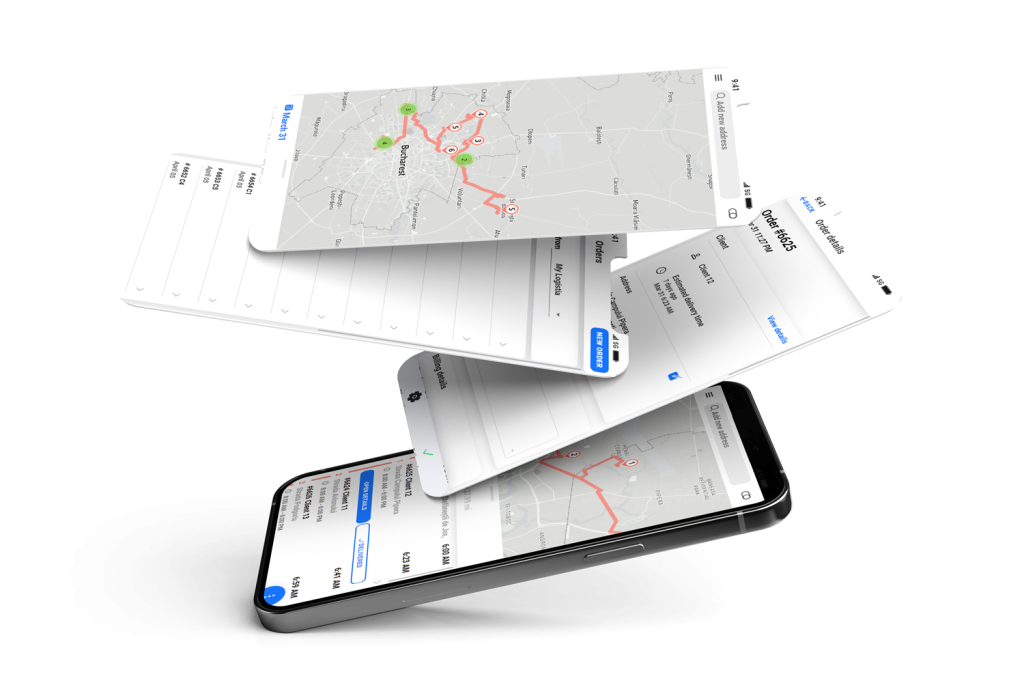 What should you choose?
Shopify has designed Local Delivery to be convenient, and easy to get started. It's a great tool for optimizing just a few deliveries per day, using just one driver.
However, even for a small-scale business, benefits like a customer tracking link, route monitoring, or proof-of-delivery can prove useful to build trust and a stellar experience for your customers.
When it comes to customization, flexibility, and options for your drivers of any kind, Logistia Route Planner is the winner. We helped businesses all around the world, from a large spectrum of profiles, to save thousands of hours in manual labor, cut costs of gas, and improve their sustainability goals by reducing printed papers every day.
---

Logistia Route Planner is your best friend to plan, optimize and deliver orders to your customers. Start becoming more effective today.
[zcwp id = 5]